We made the Hall of Fame!
Posted: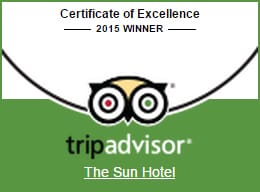 We are proud to announce that The Sun Hotel & Bar has been awarded the Hall of Fame status from Trip Advisor! This accolade is granted only to those who have won the Certificate of Excellence  for 5 years in a row with consistently great reviews!
We are really chuffed to get this, we take pride in making your visit fabulous, and this is a brilliant recognition of how many of our lovely customers have had a great time with us. Come and see us if you've not been already, we look forward to seeing you.