Beginners' Modern Calligraphy Workshop at The Sun – April 22nd
Posted: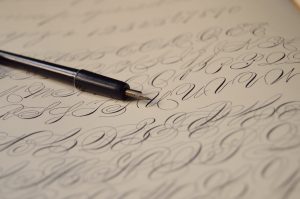 On Wednesday April 22nd, 6.30 pm – 9 pm, we'll be hosting a beginners' modern calligraphy class with Mellor & Rose!
This workshop starts from the very beginning – covering the core fundamentals of calligraphy and hand lettering; how to hold the pen, pressure strokes, angle of the nib, when to dip, etc. This is a beginners' workshop, so it's suitable for absolute beginners – no experience needed at all!
After covering the upper and lower alphabet, you'll delve into joining up those individual letters – looking at the shapes of letters as a whole, working on a curve and bouncing those letters. The design templates incorporate both script and sans serif calligraphy styles which is then complimented by decorative ornaments to frame the design.
This two and a half hour class is £45.00 per person includes a starter kit of a dip pen, nib, entire upper and lower case alphabet, joining up the letters, practice sheets, design and layout sheets (wall art), ornaments plus stationery items to letter up, and refreshments.
To book your spot on this workshop, simply message us or email Lucy Mellor at mellorandrose@icloud.com. We'll see you there!