Our Rooms at The Sun Hotel & Bar in Lancaster
Posted: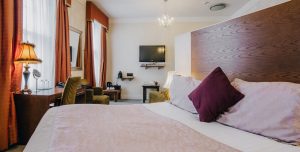 The Sun Hotel and Bar is perfectly situated for your break in the historic city of Lancaster. We're just a five-minute walk from Lancaster station, which has excellent transport links to Preston, Manchester, Liverpool, London, the Lakes, and more. Whether it's your first time in Lancaster, or you're a frequent visitor, or whether you're a solo traveller or visiting with friends and family, The Sun is the perfect base for your trip.
After a long day wandering around town and seeing the sights, including Williamson Park, Ashton Memorial, and Lancaster Castle, or doing a spot of shopping in the town centre, head back to The Sun Hotel & Bar for a delicious meal and a relaxing night's sleep. Our 16 bedrooms are the perfect home away from home, with large beds, stylish decor and en suite bathrooms. Read on for our guide to each of our room types at The Sun Hotel and Bar.

Room Types
Mini Doubles: Our Mini Doubles are small yet efficient rooms, with all the amenities that you could need for a stay in the city. These rooms are ideal for individual travellers and business visitors, featuring a double bed, flat screen TV, and ensuite shower room.
Standard Doubles: Our Standard Double rooms are comfortably sized rooms, perfect for couples, featuring a large double bed, flat screen TV,  a desk, and ensuite shower room.
Luxury Doubles: Our large, spacious Luxury Double rooms feature a super king size bed, TV and DVD player, a desk, additional seating for you to relax in, and an ensuite shower room.
Luxury Twin: The Luxury Twin room is a large, spacious bedroom, with two single beds, a TV and a DVD player, and a desk. This room also has a shower over a bathtub.
Luxury Twin/Triple: This spacious room has both a double and single bed, a TV and a DVD player, desk, and an ensuite shower room.
The Suite: The Suite at The Sun Hotel & Bar is the finest room in Lancaster. Once a classic Georgian drawing room, the Suite is now a beautiful bedroom suite, featuring high ceilings, and separate sitting and bedroom areas. Our Suite includes two flat screen TVs, a CD player, DVD player, freestanding cast iron bath, and separate shower room. For luxurious finishing touches, the Suite also includes a fruit bowl, speciality teas and coffee, and an espresso machine.
Our luxurious, comfortable bedrooms are the perfect place to lay your head after a busy day exploring Lancaster. To book a room, call us on 01524 66006, or use our online booking system.