StudentHQ mentions The Sun as a Great Student Pub in Lancaster
Posted: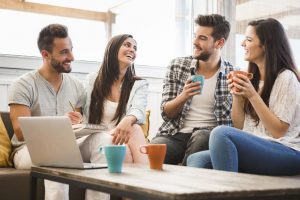 In a recent post on 5 brilliant student pubs in Lancaster, StudentHQ mentions The Sun Hotel & Bar as a fun night out. Come to visit our bar and wonderful beer garden in Lancaster to see for yourself! Here's some more information about what's on and what to expect at our venue.
Quiz Night at The Sun Hotel in Lancaster
Held every Tuesday from 9pm, our quiz night is a popular event in Lancaster that gives both students and those visiting the city a fun and relaxing experience.
Entry's £3.50 per person making it an affordable option for a great time in town. You can enter up to six people in any one team. Included is one drink alongside some half-time snacks.
At the end of each week, you'll be entered to win a cash pot prize. If no winner's drawn, then the prize will be moved over to the following week making for a more interesting and higher stakes draw!
Both our hotel guests and regular visitors have praised the recent renovations and our new menu, making our hotel in Lancaster a comfortable venue that provides a tasteful choice of food, with vegan and vegetarian options too!
Don't forget to explore our lovely beer garden, one of the few great outdoorsy spots to enjoy a drink in Lancaster.
Drinks, Spirits and Weekly Gin Nights
Our wonderful collection of beers range from golden ales, stouts and India pale ales to lager, wheat ales, dark lagers and many more. You can expect a stout, a Belgian fruit beer, two draughts, four imported lagers and ten hand-pulled cask beers.
You can also dive into our own wide range of beers, with our famous Lancaster Blonde, Amber, Red & Black range. Lancaster Brewery also provides us a selection of limited edition ales for 2018 alongside a selection quarterly ales too.
If you're looking for something more conventional, our bar stocks 30 bottled and canned beers, so there's plenty to sate your taste buds. What's more, you can choose between a handle or straight glass to enjoy your beverage.
There's more. If you're not into your beers, ales and ciders, then you can enjoy a spirit or mixer from our worldwide selection of handpicked gins, vodkas, rums, whiskies and everything in between.
Check out or legendary tower of gins, which includes more than 50 bottles with a complimentary selection of over 15 tonics to match any gin fanatics needs.
In case you're undecided, you can try our gin of the week to see which tastes you fancy. In summer, we'll throw up our pop-up gin stall and host a Gin Fest in September.
Check our Facebook page for what's in the cellar, our gin of the week and beer backstories. We are proud to be finalists in the national Great British Pub Awards 2017 for Best Beer Pub.