7 Things To Do In Lancaster When It's Raining
Posted: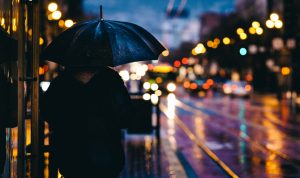 Lancaster is a fascinating, ever-changing city with an exciting and fresh feel that might surprise you. For a start, there's a lot of bars, restaurants and hotels in Lancaster to visit. However, with the city sitting snugly in England's North West, there is something that you can expect: rain.
It's not always sunny in Lancaster but, despite the weather, locals and visitors alike have plenty of options when it comes to things to do in this quaint city and its surrounding areas.
To give you a little bit of inspiration if your time in Lancaster takes a turn for the wetter, we've compiled a list of 7 superb activities that will keep you out of the rain.
Lancaster Grand Theatre has been open since 1782, but that doesn't mean it's dated! Here you'll find all manner of amateur dramas, dance and music performances, and productions from professional touring companies.
Some big names in stand-up comedy also frequent this venue so, regardless of your interests, Lancaster Grand Theatre will be sure to put on something that you'll love!
Lancaster University Sports Centre
The sports centre at Lancaster University is perfect for fun on a rainy day, with a great many activities on offer, including indoor climbing, sauna and steam rooms, swimming, and squash! You can either become a member or 'pay as you play' and you can take a 360° tour of the sports centre here.
Lancaster Brewery is not only known for producing excellent craft ales and ciders, it's also known for its brewery tours and event space. You can take a tour of the brewery behind the famed ales, delving deep into the inner workings of brewery life, from the malt silo to the cold store.
The Brewhouse & Tap serves at least five Lancaster Brewery ales at any time and is the perfect watering hole for lovers of fine ale, but make sure you call ahead to avoid disappointment as there may be a private function being held.
Sat just outside of Lancaster in Morecambe, Jump Rush is a room filled with over 100 trampolines, both on the walls and on the floor, plus eight specialist zones for you to test your strength, balance, and coordination.
This trampoline park is a fantastic day out for both children and adults and there are even sessions tailored to those with disabilities and weekend sessions featuring live DJ sets! There's also a cafe on site so that you can wet your whistles after completing the ultimate trampoline park challenge.
This is a relatively new addition to Lancaster City centre and it features three rooms in which players have to solve puzzles, riddles, and clues surrounding a theme and storyline in order to escape. The three rooms are aptly named 'Framed', 'Escape The Noose', and 'Fun At The Fair' respectively and it takes teamwork and communication amongst your family, friends, or colleagues to escape!
The Lancaster City Museum is sat right in the heart of Lancaster City centre and will take you on a journey of Lancaster's history, from the Roman period to present day, including the pedigree of Lancaster's regiment from 1680 onwards.
This family-friendly museum, which gives free admission to all visitors, hosts a range of exhibitions, activities, and events, so no two visits will be the same. The museum is closed on Mondays, but is open Tuesday – Sunday from 10 am until 5 pm as a fascinating way to escape the elements.
The Peter Scott Gallery, which you'll find on the Lancaster University campus, is known for showcasing temporary exhibitions and associated talks.
In the John Chambers Ceramics Room, a collection of Royal Lancastrian ceramics is on permanent display and the gallery calls itself home to Lancaster University's international art collection. Entry to the Peter Scott Gallery is completely free and visitors of all ages are welcome.
The Sun Hotel and Bar offers a quaint and comforting space in the centre of Lancaster, with an array of top-quality food and drink on offer to our guests. For more information on eating at The Sun Hotel and Bar, take a look at our menus here. Alternatively, if you're looking for something to do during a weekday, come to visit us on Tuesday at 9 pm for Quiz Night!