Nige – Head Chef
We welcomed our Head Chef, Nige, in 2020 and he has since been an asset to our team. With over 13 years' experience, Nige came to us from our sister venue, The Mill at Ulverston and is constantly learning new skills and continuing his passion for cooking.
1) What made you want to be a chef?
"It all started by simply helping out. I used to work fron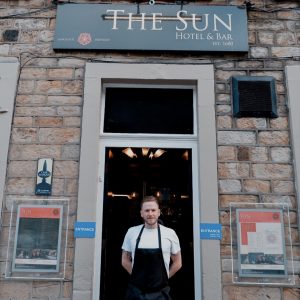 t of house, in a hospitality venue, and I absolutely loved it. Whilst I was working there, I started helping out in the kitchen, which is where it all started really. I was spending all my time watching the chefs and how they did things. The first ever dish I got shown how to make was a lasagne, I didn't realise all the elements that went into making a dish properly until this point and ever since that day I have been hooked on it, I absolutely love cooking. I enjoyed working front of house but I much preferred being in the kitchen and learning how to cook different things and acquire new skills, I was constantly learning."
2) Who is your inspiration?
"My first inspiration was Gordon Ramsey. I love how much detail he puts into every aspect, not just the food, he cares about every tiny detail including the service. He doesn't miss an inch to give each customer an amazing experience no matter what. I believe I have carried his levels of hunger and drive through my whole career.
My other inspirations – Chef Patron, Steven Doherty and Head Chef, Allan Kay. Steve and Allan motivated me to lay out a path of hard work, when I started out I never felt talented as such, but they helped me to understand how if I put hard work, determination and drive into this career then it would work in my favour. I knew that if I stuck to that I would smash it no matter what."
3) What is the best thing about the sun kitchen?
"My team! The team that I came into and inherited when I started working at the Sun really made it for me. The guys in the kitchen are 100% willing to learn, they are committed, loyal and hard working. You can't ask for more than that."
4) What is your favourite dish to cook?
"I really do enjoy cooking everything, especially every meal that I put on my menus. I tend to favour and lean more towards fresh meat and fresh fish. Anything locally sourced that has just come in that day. I am big on traceability of foods."
5) What is your favourite shift?
"Friday & Saturday nights – when the shifts are busier! It is also nice doing breakfast shifts because you get to see the day from the start, check all the produce that is coming in and being in the kitchen on your own, organising and prepping everything."
6) Where do you see The Sun heading?
"Obviously, lockdowns have been very hard on our industry and now we are 'hopefully' coming out of lockdowns we are overcoming new challenges and need to recapture ourselves as a pub and a food establishment. We are working hard to get back towards The Sun's glory of being such a popular drinkers pub, whilst adding high quality food and bringing the food service up to the same standard as the drinks. I am working hard to put my stamp on the venue and work with Gemma and the team to bring two brilliant offerings of both high-quality food and drink."