Matt – Assistant Manager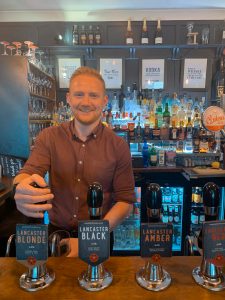 Matt joined our team in 2018 and continues to thrive in his job role as Assistant Manager. Moving to Lancaster from afar, Matt fit perfectly into our team and has made a life for himself both inside and outside of work. 
1) How long have you worked in hospitality?
"For nearly 15 years now. I started when I was 14 by helping to glass collect at my mum's pub, she was a landlady back in Gloucester."
2) As we know you came to Lancaster from Gloucester, what brought you here?
"I wanted a change of scenery and to face new challenges whilst also exploring new parts of the country! Meeting Matt Jackson (Director – Lancaster Brewery) at the rugby back in Gloucester and becoming friendly with him helped with this decision to move and work for Lancaster Brewery, which I knew was a well-established business."
3) What's your favourite drink to make?
"Definitely the ales (although that's technically pouring). A lot of care and effort is required into pouring a perfect pint, and it always makes you feel more accomplished when you do so. I also like ales and I'm interested in them, so it helps with the cellar too."
4) What has been the most rewarding thing about working at The Sun?
"Being surrounded by such a good and supportive team of colleagues. They all helped me settle in when I moved to Lancaster. I didn't know anyone when I arrived and over the last 3 years, I have created a new life for myself both in and out of work."
5) What do you like to do outside of work, on your days off?
"I enjoy being active, so playing rugby, squash and golfing etc. I also enjoy drinking Lancaster Blonde of course!
6) If you weren't in the hospitality industry… what do you think you would be doing?
"I would either be a Personal Trainer or a Physiotherapist."